MinusL fruit ice cream strawberry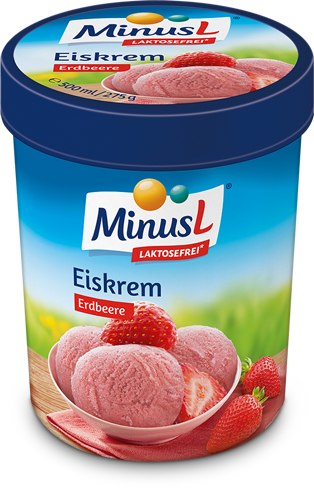 MinusL fruit ice cream strawberry
Everyone's choice when it comes to fruity. Discover the absolute classic among ice cream flavours. Now from MinusL, too. Simply scrumptious!
Lactose free* fruit ice cream strawberry
INGREDIENTS
34 % skimmed milk, 30 % cream, 10 % strawberry puree, sugar, glucose syrup,
6 % dried milk product**, glucose-fructose syrup, colour: beetroot red, paprika extract; emulsifier: mono- and diglycerides of fatty acids; acidity regulator: citric acid; stabiliser: guar gum, locust bean gum, carrageenan; natural strawberry flavour with other natural flavourings, lactase, salt
** made of skimmed milk
May contain traces of soya, nuts and peanuts.
Nutritional facts
Average nutritional values per 100 g:
Energy

816 kJ / 195 kcal

Fat
- of which saturates

9.3 g
6.0 g

Carbohydrates
- of which sugars

23.6 g
19.6 g

Fibre

0.1 g

Protein

4.1 g

Salt

0.18 g