MinusL green chili peppers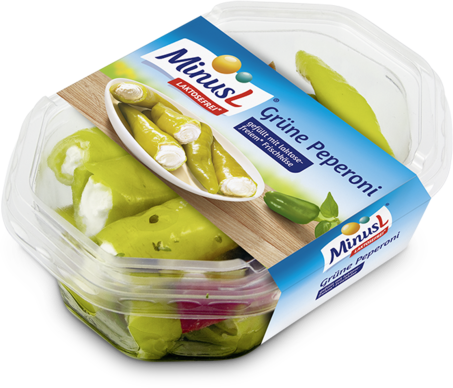 MinusL green chili peppers
These green peperoni peppers come from the sun-drenched growing regions on the eastern Mediterranean. A crunchy-fresh variety, they are stuffed with lactose-free cream cheese by hand. The result: a delectable pleasure for all antipasti-lovers.
Green Chili Peppers stuffed with lactose free* cream cheese
INGREDIENTS
52 % cream cheese double cream, 43 % green chilli peppers, peppers, vegetable oils (rapeseed, olive), herbs, spirit vinegar, salt, lactase, acidifier: citric acid; preservative: potassium sorbate; starch.
Nutritional facts
Average nutritional values per 100 g:
Energy

714 kJ / 173 kcal

Fat
- of which saturates

16.0 g
10.0 g

Carbohydrates
- of which sugars

2.5 g
2.5 g

Fibre

2.5 g

Protein

3.5 g

Salt

2.50 g