MinusL ice cream bourbon-vanilla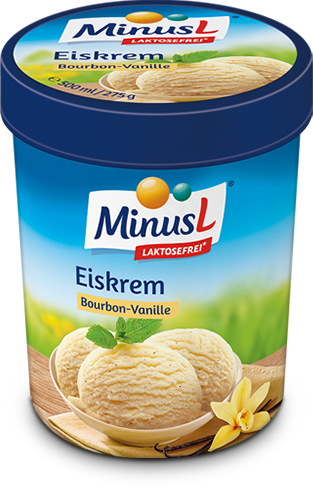 MinusL ice cream bourbon-vanilla
Genuine Bourbon vanilla turns this extra-creamy lactose-free ice cream into a delectable summer highlight. Whether with fruit or just the way it is – a truly pleasurable moment with each and every spoonful!
Lactose free* Bourbon-vanilla ice cream
INGREDIENTS
38 % skimmed milk, 33 % cream, sugar, 6.4 % dried milk product**, glucose syrup, dextrose, emulsifier: mono- and diglycerides of fatty acids; stabilisers: carob gum, guar gum, carrageenan; lactase, natural bourbon vanilla flavour, extracted Bourbon-vanilla pods, carrot extract
** made of skimmed milk
May contain traces of eggs, soya, nuts and peanuts.
Nutritional facts
Average nutritional values per 100 g:
Energy

893 kJ / 213 kcal

Fat
- of which saturates


10.6 g
6.8 g

Carbohydrates
- of which sugars

24.9 g
24.8 g

Fibre

0.2 g

Protein

4.5 g

Salt

0.03 g