MinusL rice pudding with cinnamon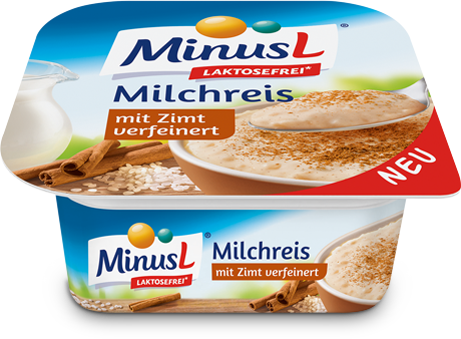 MinusL rice pudding with cinnamon
Eagerly awaited – and now it's here: MinusL Cinnamon Milk Rice. Tender kernels of rice, lactose-free milk and luscious cinnamon join to set a very special accent that lets the hearts of all fans with a yen for desserts beat faster.
Lactose free* rice pudding with cinnamon
INGREDIENTS
78 % whole milk, 10 % rice, sugar, rice starch, lactase, cinnamon
May contain traces of gluten and eggs.
Nurtitional facts
Average nutritional values per 100 g:
Energy

545 kJ / 129 kcal

Fat
- of which saturates

2.9 g
1.9 g

Carbohydrates
- of which sugars

22.4 g
13.2 g

Fibre

0.1 g

Protein

3.3 g

Salt

0.10 g