MinusL Protein Delight blackcurrants-pommegranate-linseed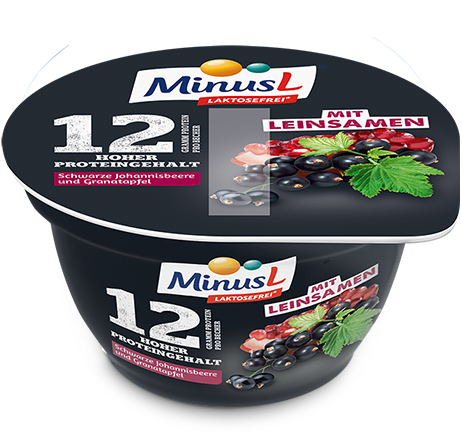 MinusL Protein Delight blackcurrants-pommegranate-linseed
The creamy Protein Delight was developed for those who like to spoon their proteins. The little snack has a lot to offer: one tub contains just 0.5 g fat and 8.6 g sugar but 12 g protein. The creamy Protein Delight Blackcurrant & Pomegranate with valuable linseed is the perfect preparation for your day.
Lactose free* cream cheese preparation with blackcurrants-pommegranate-linseed-preparation, low fat in the milk components
INGREDIENTS
skimmed milk, , water, 6 % blackcurrants, sugar, 3 % pommegranate juice from pommegranate juice concentrate, modified starch, 0.2 % linseed, black carrot juice concentrate, natural flavouring, stabilizers: pectins, locust bean gum; acidity regulator: sodium citrates; lactic acid cultures, microbal rennet substitute, lactase.
Nutritional facts
Average nutritional values per 100 g:
Energy

309 kJ / 73 kcal

Fat
- of which saturates

0.5 g
0.3 g

Carbohydrates
- of which sugars

9.1 g
8.6 g

Fibre

0.6 g

Protein

7.7 g

Salt

0.11 g